Grupo de Desarrollo Naval de Actividades Bélicas Especiales

Naval Special Warfare Development Group
Equipo SEAL nº6 - DEVGRU

Activa 1987 - presente

País Estados Unidos

Rama Armada de los Estados Unidos

Tipo Contraterrorismo marítimo

Acuartelamiento Dam Neck, Virginia

Cultura e historia

Mote DEVGRU, SEAL Team Six

Batallas/guerras Operación Furia Urgente

Operación Causa Justa

Operación Tormenta del Desierto

Operación Devolver la Esperanza

Operación Iraqi Freedom


El Grupo de Desarrollo Naval de Actividades Bélicas Especiales (del inglés: United States Naval Special Warfare Development Group) , (comúnmente conocido como DEVGRU o Equipo SEAL nº 6) (SEAL Team 6, ST6) por los civiles, es una unidad de contraterrorismo y operaciones especiales del Comando Naval de Actividades Bélicas Especiales de los Estados Unidos. Tiene su base en Dam Neck, Virginia. Los miembros del DEVGRU son seleccionados de entre los equipos SEAL. El grupo DEVGRU es la evolución del secreto Equipo SEAL nº 6 que fue creado en 1980.

Los orígenes de este equipo surgen después de la Operación Garra de Águila que fracasó en 1980 en el intento de liberar a los rehenes estadounidenses retenidos en la embajada en Teherán.



Historia
El Equipo SEAL nº 6 fue creado en octubre de 1980, y siguió un intenso programa de entrenamiento que en seis meses los dejó preparados para la acción. Al mismo tiempo solo dos equipos SEAL estaban en activo, pero la cultura popular dice que se escogió el número seis para confundir a los espías soviéticos sobre el número de equipos operantes. En 1981 fue oficialmente declarado activo.

En 1987, se formó una nueva unidad, con el nombre oficial de 'Naval Special Warfare Development Group' (NAVSPECWARDEVGRU, o DEVGRU) después de que el Equipo SEAL nº 6 fuese disuelto. Las razones por las que el equipo fue disuelto son pueden ser muy variadas y no se conocen con certeza. Aún así, sea cuál sea la verdad detrás de esto, el nombre de "Equipo SEAL nº6" es a menudo empleado para referirse al DEVGRU por sus similitudes en su trabajo.

La misión del DEVGRU es conducir operaciones de contraterrorismo e inteligencia para el Comando de Operaciones Especiales de los Estados Unidos, probrar, evaluar y desarrollar tecnología marítima, aérea y terrestre applicable a las fuerzas como los equipos SEAL. El DEVGRU y la Delta Force entrenan juntos y trabajan en misiones de contraterrorismo. El comandante actual del equipo, el Almirante Eric T. Olson, fue uno de los cuatro SEALs que tomaron parte en la Batalla de Mogadiscio.



Papel actual
El DEVGRU participa activamente en la Guerra contra el terrorismo y en Iraq. Ha trabajado conjuntamente con la Delta Force y otras agencias para matar o capturar a líderes terroristas de al-Qaeda, los talibán y grupos de insurgentes.

En Afganistán, durante la Operación Devolver la Libertad, las fuerzas especiales de los Estados Unidos libraron duros combates.[6] Durante la batalla de Takur Ghar, los SEALs del DEVGRU participaron en una de las batallas más violentas de la Operación Anaconda. El 2 de mayo de 2002 un helicóptero MH-47 Chinook llevaba a un equipo de SEALs sobre las montañas de Takur Ghar. Cuando llegaron a la zona de aterrizaje observaron que en la nieve había signos de actividad humana reciente. Los pilotos y el equipo pensaban en abortar la misión pero era demasiado tarde. Un RPG golpeó el interior del aparato, mientras las balas alcanzaban el fuselaje del avión, cortando los sistemas hidráulicos y de aceite. El líquido se extendió por toda la rampa del helicóptero. El piloto despegó e intentó alejarse del fuego enemigo, cuando el miembro del DEVGRU Neil C. Roberts resbaló por el aceite y cayó desde una altura de 5 a 10 pies. Roberts atacó inmediatamente desde el suelo a las fuerzas de Al-Qaeda con su M249 SAW. Sobrevivió 30 minutos hasta que fue disparado a bocajarro. Roberts fue el primer SEAL en morir en Afganistán y el primero en morir en combate desde 1989.

doc_breacher

ALPHA Squad · S08




Mensajes

: 9248


Fecha de inscripción

: 02/05/2010


Edad

: 30


Localización

: melilla




Development Group Naval Special war activities


Naval Special Warfare Development Group

No SEAL Team 6 - DEVGRU
Active 1987 - present
Country United States
Rama United States Navy
Maritime Counterterrorism Type
Quartering Dam Neck, Virginia
Culture and history
Mote DEVGRU, SEAL Team Six
Battles / wars Operation Urgent Fury
Operation Just Cause
Operation Desert Storm
Operation Restore Hope
Operation Iraqi Freedom


Development Group Naval war activities Special (English: United States Naval Special Warfare Development Group), (commonly known as DEVGRU or SEAL team No. 6) (SEAL Team 6, ST6) by civilians, is a unit of counterterrorism and Special Operations Command Naval Special war activities of the United States. It is based in Dam Neck, Virginia. DEVGRU members are selected from the SEAL teams. The group DEVGRU is the evolution of secret SEAL Team No. 6 was created in 1980.

The origins of this team come after Operation Eagle Claw failed in 1980 in an attempt to free American hostages held in the embassy in Tehran.



History
No SEAL Team 6 was created in October 1980 and followed an intensive training program in six months left ready for action. At the same time only two SEAL Teams were active, but popular culture says that the number six was chosen to confuse Soviet spies on the number of operating equipment. In 1981 was officially declared active.

In 1987 he formed a new unit, with the official name of 'Naval Special Warfare Development Group' (NAVSPECWARDEVGRU, or DEVGRU) after SEAL Team No. 6 was dissolved. The reasons why the team was disbanded are can be very varied and are not known with certainty. Still, whatever the truth behind this, the name "SEAL Team # 6" is often used to refer to DEVGRU their similarities in their work.

DEVGRU The mission is to conduct counterterrorism operations and intelligence for the Special Operations Command United States, probrar, assess and develop marine technology, applicable to air and ground forces and SEAL teams. The DEVGRU and Delta Force train together and work in counterterrorism missions. The team's current commander, Adm. Eric T. Olson was one of the four SEALs who took part in the Battle of Mogadishu.



Current Role
The DEVGRU actively involved in the war against terrorism and in Iraq. He has worked in conjunction with the Delta Force and other agencies to kill or capture terrorist leaders of al-Qaeda, the Taliban and insurgent groups.

In Afghanistan, during Operation Restore Freedom, Special Forces of the United States fought hard battles. [6] During the battle of Takuro Ghar, the DEVGRU SEALs participated in one of the most violent battles of Operation Anaconda. On May 2, 2002 an MH-47 Chinook helicopter carrying a team of SEALs on Takuro Ghar mountains. When they reached the landing zone observed in the snow were signs of recent human activity. The drivers and the team thought to abort the mission but it was too late. An RPG hit the inside of the unit, while the bullets hit the fuselage of the aircraft, cutting hydraulic and oil. The liquid is spread throughout the ramp of the helicopter. The pilot took off and tried to get away from enemy fire, when a member of Neil C. DEVGRU Roberts slipped by the oil and fell from a height of 5-10 feet. Roberts immediately attacked from the ground to the forces of Al-Qaeda with his M249 SAW. He survived 30 minutes until he was shot at close range. Roberts was the first SEAL to die in Afghanistan and the first to die in combat since 1989.

doc_breacher

ALPHA Squad · S08




Mensajes

: 9248


Fecha de inscripción

: 02/05/2010


Edad

: 30


Localización

: melilla




doc_breacher

ALPHA Squad · S08




Mensajes

: 9248


Fecha de inscripción

: 02/05/2010


Edad

: 30


Localización

: melilla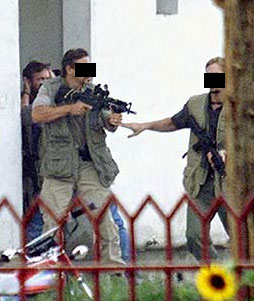 DEVGRU operators pictured following an attempt on Afghan President Hamid Karzai's life, 2002. DEVGRU was providing close protection for the President at the time.
DEVGRU - History
DEVGRU's origin can be traced back to the aftermath of Operation Eagle Claw, the aborted 1980 attempt by US SOF to rescue American hostages from Iran. With the need for dedicated hostage rescue units stronger than ever, SEAL Team 6 was put together and commanded by Richard Marcinko, with the unit coming online in 1981. SEAL Team 6's remit included Maritime Counter Terrorism (MCT) and ship-boarding operations.
SEAL Team 6 was eventually disbanded and, in 1987, its role, minus non-CT ship boarding which was handed off the newly formed SEAL team 8, was given to the newly formed Naval Special Warfare Development Group (DEVGRU). Although ostensibly a new organization, DEVGRU was manned by many SEAL Team 6 operators and carried on with the same ethos and standard operating procedures.
DEVGRU - Roles
The primary missions of DEVGRU are:
* Counter Terrorism
DEVGRU specializes in Maritime Counter Terrorism (MCT) - e.g. hostage rescue on ships, oil platforms etc - but is also capable of broader CT tasks. The unit is also able to carry out pre-emptive CT operations.
* Close Protection
DEVGRU was believed to have provided Afghanistan President Hamid Karzai with close protection in the early days of his Presidency.
* Special Reconnaissance
DEVGRU - Operations
* 1993 - Somailia - Operation Gothic Serpent
A small number of DEVGRU operators are among US SOF deployed to Somalia as Task Force Ranger.
* Mid-late 90s - Former Yugoslavia
Working under the auspices of NATO, DEVGRU arrested several suspected Serbian war criminals.
* 2001 - Present - Afghanistan - Operation Enduring Freedom
DEVGRU deployed to Afghanistan as part of a JSOC Joint Task Force (Task Force 11) with the remit of hunting down key Al Qaeda and Taliban figures.
Operation Anaconda
DEVGRU operators from TF-11 were assigned to the Advanced Force Operations (AFO) Task Force that deployed into the Shahikot region to prepare the way for a large scale US airborne assault. One small recon team of DEVGRU operators took out a DSHK 12.7mm heavy machine gun emplacement that would have posed a major threat to the planned helicopter landings.
Prolonged clashes between US and Al Qaeda forces occurred during the eventual assault, code named Operation Anaconda. During the fighting, DEVGRU operators attempted a nighttime helicopter insert atop the peak of Taku Ghar. Unfortunately, enemy fighters were dug in on the mountain and the MH-47 carrying the SEALs took heavy fire. As the MH-47 tried to evade the incoming fire, a SEAL, Petty Officer First Class Neil C. Roberts, fell from the rear ramp. The 160th SOAR pilot managed to land the stricken helicopter further down the mountain. Further unsuccessful attempts to take the position and rescue Roberts were made, with more casualties taken. The initial SEAL unit was airlifted up the mountain by a reserve chopper and were this time able to get close to their target, although the resulting battle claimed the life of a USAF CCT. A force of Rangers later inserted in another MH-47, at the cost of another disabled helicopter and the lives of several soldiers and airmen. Sadly, Roberts also died on the mountain. Roberts is believed to have single-handedly fought off dozens of enemy before being killed. The landing zone would later become known as Roberts Ridge in memory of the fallen SEAL.
* 2003 - Present - Iraq - Operation Iraqi Freedom
During the invasion of Iraq, SEALs from DEVGRU were part of a joint tast force sent to rescue PFC Jessica Lynch who had been captured and held at an Iraqi hospital.
Post invasion, DEVGRU is believed to have contributed operators to a Combined Joint Task Force, often referred to as Task Force 88, tasked first with dismantling Saddam's Baathist regime and later the insurgency / Al-Qaeda. As in Afghanistan, DEVGRU has been targeting key nodes in the terrorist's network.
More photos:
http://www.americanspecialops.com/photos/devgru-gallery.php
Info extracted from:
http://seals.americanspecialops.com/devgru/



...............................
"Que le den por culo al Pato Mickey"

http://www.facebook.com/pages/SEAL-Team-Spartan/216455738374002
Keep Low. Move Fast. Kill First. Die Last. One Shot. One Kill. No Luck. Pure Skill.

SiX

ALPHA Squad · S06




Mensajes

: 12404


Fecha de inscripción

: 01/05/2010


Edad

: 29


Localización

: Málaga



Por culpa de Marcinko se elimino esta unidad,no merece ser nombrado!

doc_breacher

ALPHA Squad · S08




Mensajes

: 9248


Fecha de inscripción

: 02/05/2010


Edad

: 30


Localización

: melilla






...............................
"Que le den por culo al Pato Mickey"

http://www.facebook.com/pages/SEAL-Team-Spartan/216455738374002
Keep Low. Move Fast. Kill First. Die Last. One Shot. One Kill. No Luck. Pure Skill.

SiX

ALPHA Squad · S06




Mensajes

: 12404


Fecha de inscripción

: 01/05/2010


Edad

: 29


Localización

: Málaga



Me he quedado con las ganas de saber porque se disolvio.... seriais buenos y me lo contais??? aunque sea por privado. Estoy seguro que lo sabeis so golfos!!

Facer




Mensajes

: 363


Fecha de inscripción

: 30/09/2010


Edad

: 38


Localización

: Huelva



Bueno se disolvio por problemas relacionados con este hombre y al tiempo se volvio a crear de nuevo dado la amenaza terrorista,aparte mas cosas.........

doc_breacher

ALPHA Squad · S08




Mensajes

: 9248


Fecha de inscripción

: 02/05/2010


Edad

: 30


Localización

: melilla



In early 1984, U.S. Navy Cdr. Richard Marcinko, former commander of the Navy's elite counterterrorist unit SEAL Team SIX, was summoned to the office of Vice Admiral James A. "Ace" Lyons, Jr., then-Deputy Chief of Naval Operations. During the course of the meeting, Admiral Lyons conveyed to the commander his concerns over the vulnerability of U.S. military bases to terrorist attack. Marcinko was then directed to draft a proposal for a new unit, specifically tasked with testing the security of U.S. Navy bases.

This would not be the only mission of this new team. In fact, testing of Naval; security was primarily a cover for the unit's primary function - covert counterterrorist missions conducted around the world. In this way, a portion of the unit would deploy overtly to a given Naval base to carry out its security mandate, while a small element would covertly infiltrate a foreign nation to carry out whatever counterterrorist activity was required. This "activity" as to be very much in line with the practice of aggressive neutralization of known terrorists carried out on a regular basis by nations such as Israel and Great Britain.

In order to provide the maximum educational benefit for both the installation commander (as well as to verify Red Cell's claims of penetration - which were sometimes disputed by base commanders), it was decided that a video crew using low-light equipment would have to be incorporated into the planning and execution of each mission. This was no easy feat, as the video crew itself would also have to be able to penetrate the base in order to remain close enough to Red Cell to video its actions. To remedy this problem, three former SEAL Team SIX operators were hired to film every operation. This had a dual benefit in that not only were these men able to secretly enter the installation without giving away the location of the team, but having been trained in exactly the same techniques as the Red Cell members (some of whom they had already worked with in SEAL Team SIX) they could anticipate the moves of the team, and thus be in a position to provide superior video surveillance of the events as they unfolded.

In a short time, Marcinko chose the name "Red Cell" for this new unit (formally designated OP-06D) and set about selecting personnel. According to his non-fiction book Rogue Warrior: "There were fourteen plank owners in the unit, three officers and eleven enlisted men - one platoon, two boat crews, seven pairs of swim buddies. It was a classic SEAL design." (RW, p. 293) Thirteen of the fourteen SEALs were from Marcinko's former command, SEAL Team SIX. The only non-SEAL accepted into the unit was Steve Hartman, a former member of the USMC's Force Reconnaissance teams.

Red Cell team members were expected to maintain their SEAL qualifications in diving, parachuting, and demolition. Beyond this, however, they were given great latitude in virtually all regards. Marcinko's command style with regard to physical training conformed to that of numerous other elite special operations units around the world, such as the British SAS. There was no required, formalized fitness program. Instead, members were expected to train individually and expected to maintain a high level of physical fitness.



Oversight and Early Issues

By Marcinko's own admission, he and his men spent a great deal of their non-training time drinking and brawling, a theme carried over from his days as CO of SIX. This type of activity was certainly not unique to Red Cell, however the frequency of its occurrence and numerous mishaps that resulted directly from drinking have frequently been pointed out as a failure in discipline and leadership by Naval Special Warfare and conventional military officers of all branches. To be sure, this would catch up to Red Cell several months later, and prove to further the already poor disciplinary reputation of the unit within the Navy.

It may be said that this type of behavior was facilitated by the lack of oversight of Red Cell during its brief operational history, however this is only partly true. Indeed, while great attention was given to monitoring the unit's actions during training exercises, there existed virtually no supervisory apparatus to which the team had to answer during its off-duty hours. This lack of oversight can be said to have given carte blanche to Red Cell members to act not as disciplined members of a Navy unit, but rather more as a small fraternity that viewed themselves as beyond the standards of acceptable conduct, even for such a unique special operations/counterterrorist unit.

This is not to say, however, that Red Cell operated completely autonomously and without any regulation. In fact, Admiral Lyons drafted a "thick book of guidelines to make sure Red Cell did its job by the book." (RW, p. 287) Additionally, the team was assigned a Navy lawyer in an effort to ensure that they operated within the parameters of the law. Finally, each scenario could not simply be selected by Red Cell and acted upon. Instead, the team was required to present a scenario for a given installation to the small cadre of senior officers overseeing the program. Therefore, each scenario (as designed by Red Cell) had to first be approved by Admiral Lyons, then by the Vice Chief of Naval Operations and his staff, and finally by the Commander in Chief (CINC) of the theater in which the installation resided. Finally, according to Marcinko's book Rogue Warrior, Lyons added his own personal warning: "Stray too far from what we've agreed on, and you and your boys are history." (ibid.) These words would prove to be prophetic ones, but not before Red Cell had its moment in the sun.



Training

Red Cell was frequently partnered with the 160th Special Operations Aviation Regiment during training exercises (most commonly the MH-6 Little Bird, especially for shipboard assaults), though they were ferried oftentimes by Air Force cargo aircraft. They used C-130's for both transport and for free fall parachute training, C-5's and C-141's for transportation of the team with its gear, as well as smaller aircraft as required.

Advanced training for this unit was not as essential for Red Cell, due to the fact that its team members had already graduated from the most rigorous military schools offered by the Department of Defense as well as those hosted by other nations. Moreover, all team members had active duty experience with Force Recon or the regular SEAL Teams and SEAL Team SIX, all of which offered continual training in advanced skills such as HALO and HAHO parachuting, advanced combat diving, close quarters battle (CQB), sniping, and scores of related techniques. For this reason, it was most important for Red Cell to maintain its proficiency in shooting and to develop unique new techniques such as might be needed by a globally-deployable counterterrorist unit. For this reason, it is possible that the team did spend some time training at the CIA's facility at the Harvey Point Defense Testing Activity ("The Point") where such skills are taught to CIA and DOD personnel.



Going Operational

In Spring 1985, Red Cell was ready for its first field test. The site selected for this was one familiar to the team members, the Norfolk Naval base facilities. The location was familiar due to the fact that Little Creek Naval Amphibious Base (home to SEAL Teams Two, Fours and Eight as well as SEAL Team SIX [Dam Neck would become the home of SIX's successor, the Naval Special Warfare Development Group]) was just a short twenty minute drive to the Norfolk base.

In practice, as set forth in the guidelines handed down by the Navy oversight body, the base commander was to be briefed not only on the fact that Red Cell would be conducting an active test of base security, but also which targets (facilities) were going to be 'attacked' and when the attack would take place. Umpires were also used on occasion as a neutral party to determine the casualties and damage inflicted as a result of Red Cell's incursions.

This procedure was followed at the inaugural three day event at Norfolk, which involved the use of smoke grenades, booby traps, and simulated explosives targeting the Navy's Second Fleet and the Atlantic Fleet Headquarters. This exercise took place and was deemed a general success, though it was primarily a test for Red Cell itself on interacting with base personnel, commanding officers, videotaping procedures, infiltration parameters, and similar necessary baseline procedures.



New London, Connecticut

The first true exercise took place in June 1985 at New London, Connecticut, home of the US Navy's Trident and Ohio-class submarines, a vital component of the US nuclear 'triad', essential to the security of the United States. Check here for information on the base's command infrastructure.

Below is a photo of the Naval Submarine Support Facility (NSSF), one element of the Naval Submarine Base New London, and one of Red Cell's targets. NSSF is a major shore command; the Navy's largest nuclear-capable FMA. This base provides intermediate level maintenance, ordnance, and supply support to three submarine squadrons of 22 nuclear attack submarines, support vessels and service craft. The upper portion of the base, seen to the far right, hosts the base facilities (BOQ, commisary, etc.), while the lower portion on the river holds the submarine pens (areas in which the subs are kept for maintenance).

[NSSF Site Photo]

The pre-mission reconnaissance of the base found numerous lapses in security (RW, 288):
No true front gate, only an entranceway.
Train tracks ran on a north/south axis between the upper and lower bases.
Chain link fences designed to keep out intruders were rotted and eroded.
The easternmost perimeter of the upper base had no fence at all, only a natural 100-foot cliff dotted with natural vegetation.
At the base of this unprotected cliff was the upper base's ordnance facility, protected only by a single chain link fence.

Other lapses were documented as well. Several team members rented a light plane and were able to fly directly over the submarine pens, with no apparent reaction from base personnel. In another instance, Red Cell rented a small boat and, flying a Soviet flag - in 1985, well prior to the fall of the Soviet Union - managed to drive the boat close enough to the dry docks and other facilities (seen in the above photo) to take video and still photographs of classified construction elements of the vessels. (Ibid.).

Following three days of preparatory work, Red Cell initiated the exercise with a phoned warning to the base operator.

doc_breacher

ALPHA Squad · S08




Mensajes

: 9248


Fecha de inscripción

: 02/05/2010


Edad

: 30


Localización

: melilla



With the required phone warning, the base went on full alert. To Red Cell's delight, while base security was indeed heightened, it numerous other flaws were becoming apparent to the team. For example, while Marine and Navy Security teams patrolled along the fence lines and hear the gates, other areas were left vulnerable. Moreover, advanced motion detectors had been turned on to protect the ordnance facility, however these sensors covered only two sides of the building near the front, leaving the back door wide open. This latter deficiency was exploited by four Red Cell operators, who scaled down the cliff to the back of the building. The video crew was then moved into position in a similar fashion.

Captured all the while on video, two operators burrowed under the fence and moved to one side of the facility while the others did the same. A lone sentry was 'killed' with a shot from a silenced pistol (ruled 'dead' by a referee) and adjacent propane tanks were booby-trapped. The team then picked the lock of the side door, entered unchallenged, and placed 'explosives' near the nuclear weapons preparation area as well as on stockpiled torpedoes. The team then extracted and concluded the night's activity.

On Day Two, the team focused on both the upper and lower sections of the base. One element struck at the hospital, communications center, and HQ buildings, with no resistance. Another element made up of four operators changed into wet suits at a yacht basin approximately one-half mile upriver from the submarine pens. With civilian work clothes packed into dry bags, they swam down the river to the pens, climbed the pilings, and changed back into their civvies. From their they were not only able to neutralize the sentries (who were reportedly in a shack drinking coffee), but they were able to plant explosives on the diving planes of one submarine, and actually made entry into a nuclear sub tied up at the pier. Once inside the submarine, the team was free to roam at will. They planted demolition charges in the control room, nuclear-reactor compartment, and torpedo room. Had these been actual explosive devices, of course, the submarine would have been a total loss (not to mention the potential for nuclear fallout).

The exercise proved without question that the installation was highly vulnerable to terrorist infiltration. In the debriefing that followed, however, what might have proven a golden moment for Red Cell was tarnished when Marcinko chose to conduct his meeting with the senior base commanders in a manner that was needlessly abrasive and unprofessional. Nonetheless, his team did carry out its mission with expertise and demonstrated an invaluable flair for the unconventional mindset - an invaluable trait for a unit with a mandate as unconventional as was that of Red Cell.



Point Mugu Naval Air Station, California

By Labor Day of 1985, Admiral Lyons, who had been a staunch proponent of Red Cell and Marcinko, was promoted out of his job in Washington to become Commander-in-Chief of the Pacific Fleet (CINCPACFLT). While this was perceived as a step up the ladder for the Admiral, it also removed him from the position that enabled him to protect Marcinko on those increasingly numerous occasions when flag officers phoned to complain about Marcinko's actions and attitudes towards the Navy. Thus, Red Cell lost its most valuable ally in the Pentagon. It was at this point that the future of the unit began come into question.

On the Labor Day weekend, however, it was discovered that an opportunity existed to text the security of Air Force One while it was housed at Point Mugu, its home when President Reagan vacationed at the president's ranch some 125 miles to the south. Thirteen of the team's members traveled to California through circuitous routes and varied times, practicing (to a degree) traveling covertly should the team be called on to perform its covert counterterrorist function in a foreign country. The team's equipment and the video crew arrived via a Navy jet into nearby Alameda Naval Air Station.

In this exercise, Marcinko gave his team great freedom in planning their own penetrations and actions at the objective. Point Mugu was a bit different than most Naval bases in that it had a well-trained SWAT team (made up of males and females) that had been formed specifically to respond to unusual threats to the installation and its personnel. Reconnaisance by car, bicycle and boat found the typical security shortcomings such as poorly secured rear gates and fences and scheduled Marine and Naval Security patrols,

Perhaps symbolically, it was the failure of main gate guards to stop vehicles as they passed into the base (while Red Cell operators used the distraction to scale nearby fences) that marked the start of the operation. Having gained access through this manner, the team infiltrated the base to find that the 'alert' base was anything but. The multi-million dollar F/A-18 Hornet stood in a row, virtually unprotected on the flight line, sentries appeared nonchalant, and all seemed like business as usual. Of course, these were the very flaws that Red Cell had been tasked to uncover. With every movement videotaped, the team did just that - uncovered and exposed scores of security shortcomings.

Of the more noteworthy actions taken by Red Cell:
Placed explosives in the air intakes of F/A-18 Hornets.
'Destroyed' the main Pt. Mugu communications antenna.
Set off smoke grenades in the main HQ building.
Raced a car up and down the main flight line of the base (with three jeep-loads of security personnel in pursuit).
'Kidnapped' women and children at the off-base Mugu cafeteria.

However, while the 13-man team proved quite capable of causing massive disruption to base personnel, facilities, and services, the most notable event occurred when Red Cell operators stole a weapons carrier, loaded it with 500-pound dummy bombs (covered with a tarp), and drove it to the Bachelor Officer's Quarter's parking lot where it remained unchecked all weekend. On the third day, they drove the weapons carrier to the far section of the field near Air Force One. They climbed out, activated the 'explosives' and walked away. This action would have completely destroyed the Boeing 707 and killed anyone in the blast area had the explosives been authentic.



Photo courtesy of Navy SEALTeams.Com



Conclusions

In time, however, Red Cell was to be shut down over a variety of complaints, spearheaded by a lawsuit initiated by a base worked who claimed to have been abused by Red Cell's overzealous operators.

To be sure, opinions of Cdr. Marcinko's command style vary widely depending on who you are talking to. The purpose of this essay, however, is not to provide a biographical essay of Marcinko, nor to delve into the well-documented inter-SEAL debates on Marcinko's personality, but rather to focus on Red Cell itself as an apparatus in the war against terrorism. Out of necessity, some references are made to the former aspect of this, but only in an effort to establish the mindset of the commanding officer of the team and how it related to the mindsets of those on the team and their actions.

Commander Norm Carley, who had an impressive career in the Teams including CO of SEAL Team TWO, UDT 21; exchange duty with German SEALs (Kampfschwimmers), and was once executive officer of SEAL Team SIX. Carley spent approximately three months at Naval Operations while Marcinko was putting together Red Cell and interacted with him frequently during this time. Having experienced Marcinko in a variety of commands and environments, his high opinion of Marcinko as a leader did not seem to change, even at this volatile time in Marcinko's career. Carley wrote:

"I learned more from Dick than from anyone I ever worked for. The lessons were positive and negative...A lot of people have opinions about him, but not many of them have seen all the facets associated with him...I've never seen anyone motivate troops like that."

(Author's note: As mentioned previously, this quote is included here to provide the opinion of a respected fellow SEAL officer at the time of Red Cell's formation and insight into the command mentality of the unit.)

Another, entirely different opinion was expressed by a retired SEAL officer regarding Marcinko and Red Cell, which perhaps best sums up both the unit and its commanding officer:

"When you get right down to it, the concept is/was brilliant. Bedside manner is what killed it. After Dick left RC, Capt. Tom Tarbox took over. Tom is a great guy. He did well turning Red Cell around. In the end though the Navy killed it. My understanding from the bubble-head admiral who headed the IG team was that too much had happened. Grabbing the breasts of the CO's wife on the left coast sent more than starch on the whites of every senior officer concerned. It went to, 'kill the name-remove the shame' type of thing. Given the Navy's usual gutlessness it came as no surprise. I understand it has re-emerged elsewhere. On another note, one of the items discussed was the whole attitude of the command. Once the evening's festivities were concluded, all concerned would muster early next AM to brief the base CO on what had occurred. Dick would show up in flip-flops and shorts, half drunk and scratching his balls to the tune of guess what I did to you last evening. Would have gone much better he in uniform with his key people (OIC, Chief, JAG and a couple of over-head slides). The CO's got their noses way out of joint and eventually it went to the top. Sad fact is that Dick's guys did some great penetrations, but the value of the lessons got lost in 'the cult of personality'." (AI)

doc_breacher

ALPHA Squad · S08




Mensajes

: 9248


Fecha de inscripción

: 02/05/2010


Edad

: 30


Localización

: melilla




---
Permisos de este foro:
No puedes
responder a temas en este foro.